KANSAS CITY, Mo. — Original Post
Two priceless heirlooms are missing, and one Kansas City man needs your help to find them. On August 17, Kevin Moore's Crestwood home was broken into, and when he got home he realized they were gone. They didn't make off with computers or a television, but something much more valuable.
Moore and his wife Jacque have a unique love story. He bought her an antique ring that he's kept on his nightstand since she died of cancer. That day he discovered it was missing along with his great-grandfather's pocket watch. The timepiece is from the early 1900s, and was passed down to him when Jacque passed away. He only had it for a week after it was sent out to be fully restored. He can't believe his prized possessions are gone, and hopes someone can help him get them back.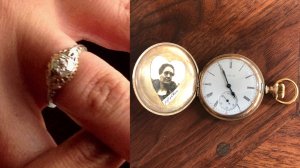 Kevin and Jacque were together for about a decade, and have countless memories that will last forever.
"She was fantastic," Moore said. "Very witty, very smart. She was a teacher."
Jacque met Kevin through a mutual friend. Moore says he knew she was special before he ever met her, but one year into their relationship everything changed.
"We knew she had cancer. It wasn't something we let run our lives," Moore said. "Her life especially. We knew it was there. We knew it was slowly deteriorating on her."
Kevin decided her illness wouldn't get in the middle of their dreams. He proposed by giving her the unique antique ring placed in a locket.
"She was like – no. I was like – It's just a locket," Moore said. "She opened it up, and the ring was in there and she was just shocked. She didn't put it all together, and I was like – our family is all here, I'm surprising you, and we`re getting married in three days."
They had a surprise ceremony in San Diego surrounded by family. Jacque passed away in April, but Moore kept her locket and ring close.
"The locket is here still," Moore said. "The ring was sitting in that locket on our dresser when our house was burglarized, and they left the locket and took the ring."
Burglars broke through his door taking both the ring and the pocket watch. They rummaged through the entire house, even disturbing Jacque's remains in their search.
"A mixture of sadness and violated," Moore said. "Just like part of me was missing. It's just a feeling of helplessness that I wouldn't be able to recover these items."
He still doesn't know if he'll ever see the ring or watch again.
"Of course, there's hundreds of other memories that I still have, and I still cherish, and that ring was a very important piece of that for sure," Moore said.
However, he will hold out hope one day Jacque's ring will be back in her locket where it belongs.
"She was just a super special person, and obviously I can`t get her back – the ring is a very significant part of our relationship that is important to me," Moore said. "It would be really special to have that ring back."
Take a good look at both of the items. This is a call to action whether you own an antique store, pawn shop, or find them laying on the ground. If you see either one please get it to Kansas City Police and they will get it back to Moore.