LIBERTY, Mo. — Original Post
Police in Liberty are looking for at least two suspects they say are responsible for vandalism on nearly 30 cars overnight. Tires were slashed and side mirrors were broken off, all throughout the Claywoods neighborhood.
"I woke with the police knocking on my door, saying that my son's car had been vandalized," Claywoods resident Tracy Soto said.
"It was kind of frustrating to be honest," said Terry Hayter, Claywoods resident and HOA board member. "This neighborhood, you expect to be safe. As far as I know, this kind of thing has never happened ever before."
Police say between 2 a.m. and 3 a.m. at least two people in a red or maroon hatchback car, possibly a Ford Focus, slashed tires of cars on the street and broke off side view mirrors.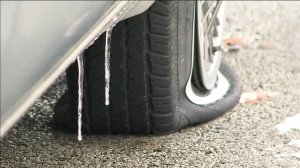 "Get it together," Soto said. "Your actions have consequences. You're going to regret making a stupid choice."
"Funnel your frustration for something positive," Hayter said. "Why don't they find something constructive to do — like help the homeless or something?"
It adds up to thousands of dollars in damages in a seemingly safe neighborhood. Hayter, treasurer of his homeowners association, said he hopes it's an isolated incident.
"I mean, we have a safe neighborhood," Hayter said. "I don't want this to say, 'Oh, this neighborhood is unsafe,' because it's not. As a board, I hope that we look into things that help keep us safer."
"We can replace the tires," Soto said. "Nobody was injured. That's the good thing. It's just several hundred dollars out of our pocket, which is unfortunate, along with several of my neighbors."
Although this is something they will move on from, Hayter said, it's not how anyone planned to spend their Monday.
"Instead of decorating for Christmas outside, we're having to get our tire fixed. We're having to look into cameras. We're having to do things that we weren't normally going to do on our Veterans Day holiday," Hayter said.
Police say if you have information that could lead to the suspects in this case you are asked to call 816-439-4701 or the Greater Kansas City TIPS Gotline at 816-474-8477.
They are asking residents to put their cars in the garage whenever possible or park in their driveways and leave porch lights on. If you see something suspicious, contact 911 and give them a description and direction of travel of the suspicious person or vehicle.
Police will be patrolling the area, and the case remains under investigation.