SHAWNEE, Kan. — Original Post
Someone shot into a Johnson County apartment complex and narrowly missed a toddler. Now, the mother of that child says she's living in fear that it's going to happen again.
"Bang, bang, bang, bang," said the mother who asked her identity not be revealed for her and her family's safety. "Over and over again."
She said the bullets flew into her apartment as she was trying to feed her 1-year-old child dinner.
"The first thing I did is I grabbed my daughter, and we both went just straight down to the ground," she said.
On Sept. 23, around 8:30 p.m., Shawnee police said someone shot their gun around 15 times at the Oasis Apartment Complex. The mother said two of those bullets went through her patio door.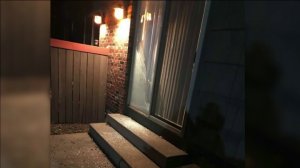 "I was just pretty upset because we don`t see this kind of crime in our community or in our neighborhood — period," she said. "Honestly, I was just in fear for my life, and I'm in fear now."
She sustained bruising on her arm and leg from the fall, not to mention glass that she continues to find weeks later in her apartment.
"The bullets had came so close that there were shards of glass in her high chair," the mom said.
She said it was bad enough the shooting happened but said the complex hasn't made many, if any, changes.
"One of the property managers of Axiom said that they were going to start patrolling immediately, and that has never happened," she said.
She's tried to get updates from Axiom's management, but they won't give her details.
"They didn't really indicate too much," she said. "They just told me they had a group of attorneys they had hired, but they couldn't say much else."
FOX4 reached out to Axiom Property Management, based in KCK, for a response, but we were sent to an answering service and haven't received a call back at the time of this article.
Now, the metro mom said she lives in fear worrying it could happen all over again.
"When I do go to bed at night I'm always wondering, 'Is this something that`s going to happen again?' So, I'm just always scared. I`m always fearful," she said.
The mom said she understands things happen but hopes Axiom will take action.
"It would make me feel better, and it would help me sleep at night," she said.
The Shawnee Police Department said no arrests have been made in the shooting at this time, and it's an ongoing investigation.