KANSAS CITY, Mo. — Original Post
President Donald Trump is headed to Kansas City on Tuesday to speak at the VFW National Convention, and his arrival will likely cause an unpredictable traffic snarl in downtown Kansas City.
For people who work or live in the area, the president's visit is expected to create confusion, but local transit officials said they're prepared for the president.
"We're used to having a lot of people downtown," said Beth Breitenstein with Kansas City's Public Works.
Roads are set to close around the KC Convention Center, but it isn't clear when or for how long.
"Plan ahead. We have a parking reservation system called Park Mobile where people can reserve a spot in one of our municipal garages," Breitenstein said. "Public transit is always a good way to go. Carpooling, biking, walking, streetcar — there's lots of options to get downtown."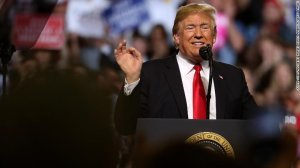 If you want to take public transportation, the streetcar should be running as usual.
"If something does occur where we do have to close down Main Street, then we would have a temporary streetcar service reduction or a delay during those times," said Donna Mandelbaum with KC Streetcar Authority.
The bus is also a viable option, but officials said to expect possible delays and detours.
"We just want our customers to be aware. Allow a little extra time to travel, and tomorrow they'll be able to check our website to see what the actual detours are," said Bridget Moss with Ride KC.
If you're determined to drive, you'll still have to maneuver around existing construction detours.
"Wyandotte is closed from 14th to 16th. The ramp off of 35, Truman Road is closed, so there will be some detouring already happening," Breitenstein said.
Although all officials said people may get stuck in traffic, their goal is to make sure to keep it moving.
"We're always hoping that, no matter who's visiting Kansas City, that our service is top notch, and they have the best experience possible," Mandelbaum said.
"I think the important thing is to plan ahead, and be patient, and we will get people to their destinations as safely and as quickly as we can," Moss said.
There's no word so far on how interstates could be affected. KCPD said they couldn't release the president's route for his safety, but everything should be back to normal by rush hour traffic.