NEVADA, Mo. — Original Post
A 10-year-old Missouri boy is on life support at Children's Mercy after he tried to take his own life last Friday.
His parents told FOX4's Sherae Honeycutt he seemed fine when the 4th-grader came home from school, but minutes later, everything changed.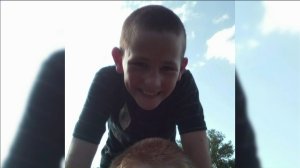 "He just couldn't do it," said Britany Lewis, Landen Lewis' mother. "All I wanted to do was save my little boy."
When he came home on Friday, his parents said Landen seemed happy, hugged them, and then went to his room.
"I was like no. It's not real. It's not real," Lewis said. "All I could think was I've got to get him to breathe. I've got to get him to breathe."
The fact that Landed tried to take his own life is something that still confuses his parents.
"We never received a phone call from the school," said Jon Guss, Landen's stepfather. "He never said a word. He came home happy and giddy, and everything was wonderful. The whole world was perfect — and then this."
That was until they said the Bryan Elementary principal called while Landen was in the hospital.
"I didn't even know he'd been in trouble three times until the principal had called me and told me that she had pulled him out of class three times and wouldn't tell me why," Lewis said.
FOX4 reached out to the school for a response to these allegations, and superintendent Dr. Tyson Beshore responded saying, "Unfortunately I will not be able to respond to your questions due to privacy rights."
Landen's parents said he's in a better place and are hoping to donate his organs. They said it's something he'd talked to them about before.
"Mom, I can save kids," Lewis said. "That's what he wants. He would have wanted to do that."
They hope Landen's memory can bring change in his school and inspire others to be kind.
"That we're able to help other children that think it's too late, that there's no sense in living," Lewis said. "Because there are people out there that care. There are people that will help them no matter what."
The Nevada R-5 School District released a statement Tuesday saying, in part:
"It is important for our school and community to come together in this time of need to provide comfort to everyone. We request your respect during this time of tragedy."
If you feel like you're in a situation and don't have much hope, suicide is not the answer. You matter. Help is available through the National Suicide Prevention line at 1-800-273-TALK, or call the National Hopeline at 1-800-SUICIDE.