BRANSON, Mo. — Original Post
The National Transportation Safety Board said Friday it has finished its initial review of the digital video recording system on board the Branson duck boat that sank in Table Rock Lake.
The duck boat sank July 19 after taking on too much water during a storm. Seventeen of the boat's 31 passengers died in the tragedy, including a Higginsville couple and nine people from the same Indiana family.
The NTSB said divers recovered an SD card and a hard drive from the boat's recording system before the boat was salvaged from the lake. The system had five cameras: four that faced outward and one that faced inward, according to the NTSB.
In a news release, the agency said what it found on the recordings is only an initial review and will be "supplemented or corrected during the investigation." The NTSB said the times it provided might not be exact and have not been validated with the local time.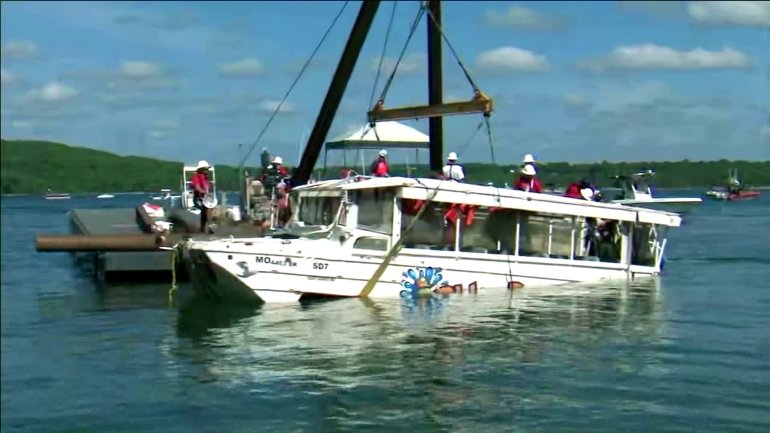 The NTSB said just before 6:30 p.m. on July 19, the captain and driver boarded the boat and an unknown person told them to take the water portion of the Ride the Ducks Branson tour first.
As passengers loaded, the captain "made a verbal reference to looking at the weather radar prior to the trip," according the to the NTSB.
About 20 minutes later, before the boat went into the lake, the captain began a safety briefing, including the location and use of emergency exits and life jackets.
The NTSB said, based on the recordings, when the boat entered Table Rock Lake, the water appeared calm. Four children were allowed to sit in the driver's seat over a period of four minutes while the captain assisted.
After those four minutes, the NTSB said whitecaps rapidly appeared on the water and wind speeds increased around 7 p.m. At that point, the captain returned to the driver's seat, and the driver lowered the clear, plastic curtains over the windows on the left and right sides of the duck boat.
The captain can be heard on the recordings making a comment about the storm and, shortly after, making a radio call, which the NTSB was not able to decipher at this time.
Then, at about 7:04 p.m., an electronic tone that is associated with the bilge alarm went off. The NTSB said the captain reached down and the bilge alarm ended. A bilge alarm detects if water inside the bottom of the boat is getting to dangerous levels. The captain then made another radio call, which the NTSB was also not able to decipher at this time.
The NTSB said, in the final minutes of the recordings, water occasionally splashed inside the area where passengers sit. At about 7:06 p.m., the bilge alarm once again went off, and a minute later, the inward-facing camera ended while the duck boat was still on the water's surface.