KANSAS CITY, Mo. — Original Post
One thousand miles, almost 70 cities and 12 weeks: That's the mission six wounded soldiers from both the U.S. and Britain are on together.
Walking with the Wounded aims to end the stigma of veteran mental illness. Their Walk Across America gives wounded veterans the opportunity to travel across the country to help raise money and awareness for people just like them. Prince Harry is the Expedition Patron of the organization and sent the group to begin their journey on June 2 in Los Angeles.
The group began their walk across Missouri at the Liberty Memorial. It's a place thousands of veterans travel to each year, but very few walk across America to get there.
"There's 22 veterans a day that are dying just from suicide," wounded veteran Kevin Carr said. "We need to make this aware, and we need people to stand up and say, 'Listen, I might have a problem. I do need help.'"
Six veterans, three from the United Kingdom and three from the United States are finding healing through helping others on their walk.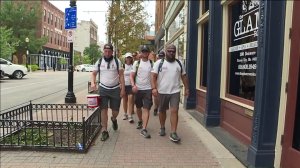 Carr was a member of the Royal Logistics Corps. After 14 years, he was medically discharged after breaking his ankle on a tour to Bosnia. In 2003, he went missing for two weeks when he couldn't pay his rent. Carr moved back home with his family, but due to an unstable home environment, he was at his wits end.
"I'm technically classed as homeless, and if it wasn't for this charity, I wouldn't be here today," Carr said. "About 11 months ago, I tried to commit suicide. I was taken to the hospital. Luckily, I was seen by a doctor, and he knew about the place I'm living."
Carr now lives at a home for veterans who have no where else to go. Carr never imagined he would be alive today or that he'd ever see Kansas City.
"It is absolutely beautiful so far. It was absolutely humbling to be able to get a tour of the World War I museum. It touched us. It was quite overwhelming," Carr said. "I can't wait to get around and see the city today because, by the looks of it, it's beautiful."
The group traveled around neighborhoods in the city and stopped to thank donors in River Market.
Jonny Burns was a member of the Royal Anglian for eight years, and life wasn't easy for him from the beginning.
"I was homeless before I joined the Army, so I was quite mentally battered and scarred through things that had happened previously in my childhood," Burns said. "I had a broken home from the age of 15 and ended up homeless."
Burns found his family in the Army. But after four deployments, he suffered a shoulder injury and found himself back where he started.
"I ended up becoming homeless again," Burns said. "I struggled with alcohol addiction, drug addition, gambling addiction and obviously, homelessness."
They're struggles faced by many of their American brothers. Both Carr and Burns live in the same veterans home back in England but are now walking the path of recovery.
"When I was in the Army, mental health was seen as a weakness," Burns said. "It's still seen as a weakness. We need to change the way that people perceive this. Mental health isn't a weakness, and it's something that needs to be stopped."
Burns and Carr said their journey through life hasn't been easy, but the struggle to get through to the other side is worth it.
"Stand up. Admit that you have an issue, and admit that you need help," Burns said. "You're no different to me. You're no different to the rest of the guys that are walking on our team, and together we can help each other."
This week, those veterans will be walking in St. Louis with Jill Biden, the wife of former Vice President Joe Biden. They will finish their walk on Sept. 6 at Ground Zero in New York City.