BLUE SPRINGS, Mo. — Original Post
If you're looking for a good way to give back this Saturday, an 8-year-old boy is asking you to stop by his house. He's setting up a lemonade stand to benefit the Blue Springs Police Department.
Brecken Simmons is ready for the big day. He's got his table, lemonade, coolers and most importantly — his sign.
"It`s called Brecken's Lemonade. It`s supposed to say Brecken's Lemonade Stand, but we couldn't fit stand on there," Brecken said.
He may be young, but Brecken's got some big plans.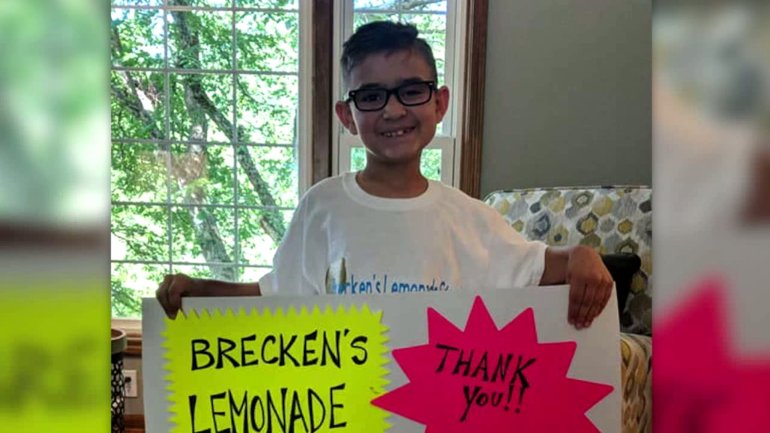 "We get lots of cars on this road, and lots of cars drive on Duncan," Brecken said.
So he decided to take advantage of the traffic and raise money for BSPD.
"It's a good thing to do for the Blue Springs Police Department because they'll stop what they're doing and come out to help people if they're in serious trouble," Brecken said.
"I think it's great," said Brecken's dad, Scott Simmons. "We've tried to teach generosity to him and his older brother. It's nice when a kid has their own idea and is allowed to do that on their own."
Brecken has a sales goal in mind for his big day.
"I'm just trying to see how much I can do. I want to do over 12 — a lot more over 12 dollars," Brecken said.
If you're worried about the cost, the lemonade is pretty cheap: just whatever you can spare.
"We just wanted people to be able to give whatever they wanted to and not to be limited by an amount," Scott Simmons said. "Whether it's a dime or a 10 dollar bill — whatever they want to give is what we want to be able to do."
Whatever funds Brecken can get, the Blue Springs Police Department said they're honored to receive it.
"I fully expect this from a kid like Breken," Officer Jacoba Jacobsen said. "Doing something for the community and doing something to help others. I think it`s a great way to show other children in the community that they can make a difference by giving out some good will. Doing it with just a glass of lemonade is a great way to show that we all can band together and enjoy some positivity in our life."
"They do a lot of stuff to help us, and they just do a lot," Brecken said. "They should deserve this. They should get a break."
If you want to stop by for a glass of your own, be sure to head over to the intersection of N.W. Duncan Road and N.W. 18th St. in Blue Springs from 10 a.m. to 2 p.m. Saturday.