KANSAS CITY, Mo. — Original Post
Even if Mark Rivera's name doesn't ring a bell, odds are you almost certainly have heard his music.
Rivera plays the saxophone for Billy Joel, but over a storied career he's also played his horn for Hall & Oates, John Lennon, Foreigner and Peter Gabriel. One of Gabriel's top hits, "Sledgehammer," features Rivera's saxophone playing.
Rivera has shared the stage with numerous members of the Rock and Roll Hall of Fame, and on Thursday he made special arrangements to meet with an inspiring local teen.
Ahmarie Miller is a 16-year-old at Washington High School. She's a gifted natural musician, but until last June, Miller didn't have an instrument.
After wowing a school assembly with her saxophone skills last year, a faculty member asked Miller an important question.
"He asked, 'Do you have your own saxophone?'" Miller said. "I was like, 'No sir,' and he was like, 'I'm going to get you your own saxophone.' And he did."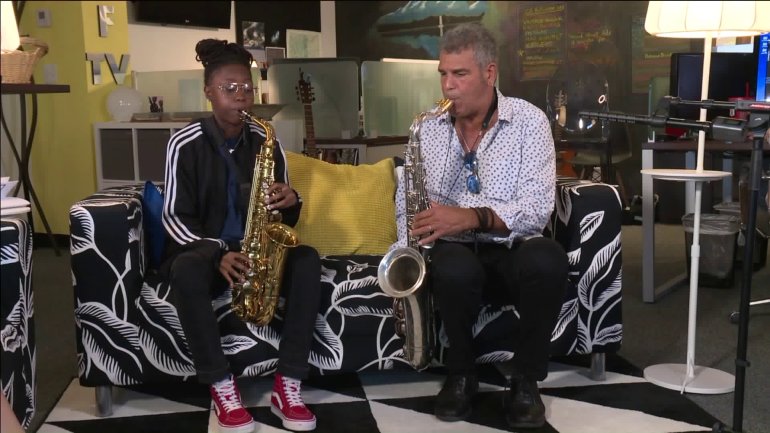 Miller received her instrument thanks to the Band of Angels, a charity partnership between Meyer Music and FOX4 that provides donated musical instruments to students who wouldn't otherwise get one.
On Thursday afternoon, Miller had an unforgettable experience playing the saxophone with Rivera. Rivera said he's moved by the mission of Band of Angels.
"What Band of Angels is doing is amazing," Rivera said. "I met Mike Meyer a few months ago. He said, 'Would you consider doing this?' I said absolutely in a second because if you can make a difference in a person's life, it's paying it forward."
Rivera also presented Miller with tickets to Friday night's Billy Joel concert at Kauffman Stadium, courtesy of Band of Angels.
Earlier in the day, Rivera met with music students at Platte County R-3 High School.
Rivera shared a special moment with student Josh McKeague.
"It was really crazy," McKeague said. "I love music. It's my favorite thing. It's an escape, and to be able to play with people and then have the same enjoyment for it — it's spectacular."