KANSAS CITY, Mo. — Original Post
A 16-year-old girl is credited with saving her family from a fire that likely spread from a neighboring home.
It first started around 2:10 a.m. Friday near a vacant home on E. 68th Street and Monroe. It spread to the homes on each side where the teen woke up to flames.
Ari'Yon woke up in the middle of the night, opened her window, and she said all she could see was orange flames. She knew she had to act. She shared a room with her 8-year-old brother, Anthony. Ari'Yon woke him up and they ran downstairs to wake up their mom and step-dad.
They were able to all get out safely, and her family attributes it to her quick thinking.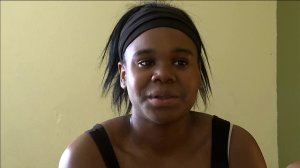 "I think that she`s a lifesaver, and that I thank her for waking everybody up so nobody would get hurt," Anthony said.
"She's my hero. She's my heartbeat, but she's my hero," said her mother, Patrice Amos.
"I saved my family's life," Ari'Yon said. "Even though me and my brother fight and fuss all the time, just to see that I made him proud, made my mom proud, made me feel good."
The blazed damaged three homes. The Amos' house suffered major damage. The house next to it was a total loss, and the house next to that also suffered significant damage.
FOX4 spoke with a resident of the third home, Molly Galloway, who said she's glad no one was hurt because the situation could have been much worse.
"Things can happen in a split second. Everybody went to bed last night thinking everything was fine and woke up in the middle of the night to flames. You can't take things for granted," Galloway said.
The Amos family lost most of their belongings in the fire, but they're glad they have each other.
"It hurt to know my mama worked so hard to get the house, so it hurt to see everything I had go away. Everything that me and my brother had go away like that," Ari'Yon said.
"People don't necessarily have money to replace stuff. Like the neighbor girl, I felt really bad for her. Her room completely went up in flames, and so all her clothes, all her shoes. I mean, she's 16. Sixteen-year-olds love their clothes, so I felt really bad for her," Galloway said.
The family thinks fireworks may have been to blame for the blaze, but the KCMO Fire Department said its looking into all possibilities. They want to find out where the fire started and why.