KANSAS CITY, Mo. — Original Post
May 14 was a historic day in Jerusalem for the second time in history as President Trump made good on his controversial campaign promise. The United States opened its new embassy in the city.
It's a move protested by Palestinians and comes 70 years after the recognition of the State of Israel on May 14, 1948.
President Harry Truman became the first president to recognize Israel as a Jewish state. On the anniversary of that decision, archivists at The Truman Presidential Library & Museum reflected on Truman's historic decision to recognize Israel — and how one Kansas City man helped him reach that point.
A draft of the declaration sits in a display box at the museum with "the new Jewish state" lined out in pencil by Truman himself and replaced with "the State of Israel." It was signed and decreed three years after the end of World War II.
"He realized that this is a moral imperative, but it's also a humanitarian one," supervisory archivist Sam Rushay said. "About 6 million Jews had been killed during the holocaust. The people that remained needed homes after World War II. They didn't want to stay in Europe for obvious reasons."
Refugees needed a home, and countries could only take in so many. Great Britain gave up control of Palestine that year, leaving the door open for Israel.
Truman was friends with a Jewish Kansas City business owner who had a clothing store at 39th and Main streets in Westport. It was their correspondence that helped him decide to declare Israel a state.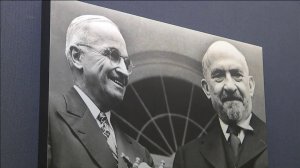 Eddie Jacobson owned Westport Menswear and asked his friend, the president, to meet the future first leader of Israel.
"Jacobsen said, 'Mr. President, you have a hero who's Andrew Jackson, the former president of the United States,' and he said, 'I have a hero too, and that's Chaim Weizmann,'" Rushay said.
After his meeting with Weizmann, Truman vowed to make the declaration on the State of Israel when he could.
"The people of Israel remained grateful to Truman, personally, for extending that recognition," Rushay said. "He wrote in his memoirs about how important this decision was, and how it would be viewed in his view favorably in the world. I think it`s regarded of one of his greatest decisions."
With the opening of the new American embassy in Jerusalem, Rushay said, history will be the judge.
"People can come to an idea of what leaders were thinking, why they made the decisions they made, why they made those decisions, and the impact of those decisions," Rushay said.
In Truman's own words, "Our goal must not be peace in our time, but peace for all time."
All of the documents and images in this story are on display for visitors at The Truman Presidential Library in Independence.