OLATHE, Kan. — Original Post
Online shopping can be convenient, but once those boxes start piling up it might seem like a chore. It sure is for one Olathe mom who is buried under what experts are calling "The Amazon Effect."
From the fulfillment center to the garage floor, cardboard boxes come to the Jarvis home en mass over the summer.
"About, like, 10 or 11," 6-year-old Tallan Jarvis said.
"Every single day on the porch it could be five to 20 boxes in the summer," her mom Tara Jarvis said.
The ladies have quite a collection of boxes of all sizes, mostly from Amazon.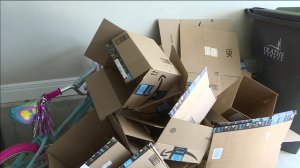 "Every single day. So I'm breaking those down, finding a place for them, trying to post on social media to see if someone needs them," Jarvis said.
However, it's all for good. Tallan and her mom collect blankets for NICUs to help families in need feel at home. They do it to remember Tara's daughter, and Tallan's sister, Piper Grace, who died at 10 months old from congenital defects in Children's Mercy's NICU. Their nonprofit is called Grace Blankets.
"I wished she would have stayed longer and grow up with me," Tallan said. "You're helping others when they need a little help and feel like they`re home."
Right then the doorbell rang. Mom and daughter ran to the door to find an Amazon box waiting to be opened.
"Oh, it's only one today," Jarvis said. "That's good, but that was just FedEx. Who knows when UPS comes."
The Olathe mom said they can break down boxes for an hour each day and would love to see a change in how Amazon does their shipping.
"We'd rather it be consolidated, so that they all show up in one thing," she said. "Whether it's multiple orders waiting for an address or a big tote. It's less for us to take care of, but it's less for the world to take care of in the long run."
"Amazon has had an effect. In some ways it's sort of — as it's shifting the consumer purchasing process, it's also having an influence on the packaging. Instead of making big bulk boxes that would go to box stores, they're making smaller packaging for you and I," said Joe Jurden, the president of Cook Paper Recycling in Overland Park.
"When big box shops came into vogue, it was easier to ship big items and big quantities of it to them. Those shops then would bail up the material, and then it would be recycled," Jurden said.
Now that job is left to the consumer. According to The American Forest & Paper Association, cardboard use is up 8 percent; however, 300,000 fewer tons of cardboard were recycled last year.
Jurden said consumers should focus on the cardboard recovery rate.
"If you look at the recovery rate, it has been incrementally increasing over the last five years. So we are recovering more, so less is going to the landfill," Jurden said.
Jarvis said they make sure to get their boxes to a recycling center, and even though it's a lot of work, it's worth it.
"We've given 13,000 blankets since 2014. Breaking down boxes is minimal for me if I'm able to give back that much, so it`s great," Jarvis said.
While consumers are left to figure out how to get boxes recycled, Amazon does ship their packages exclusively in recovered cardboard.